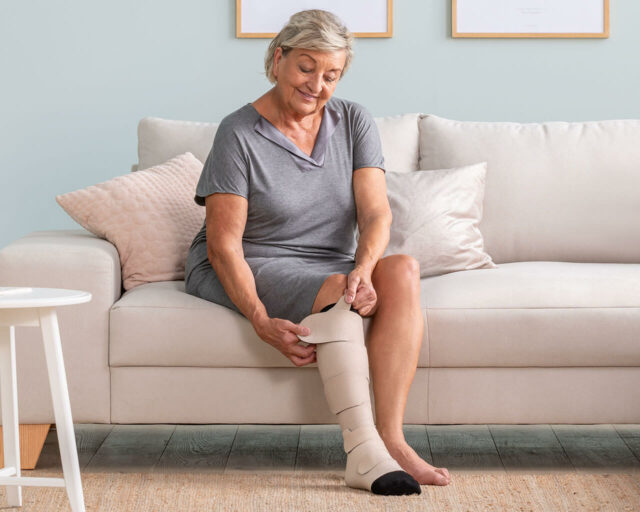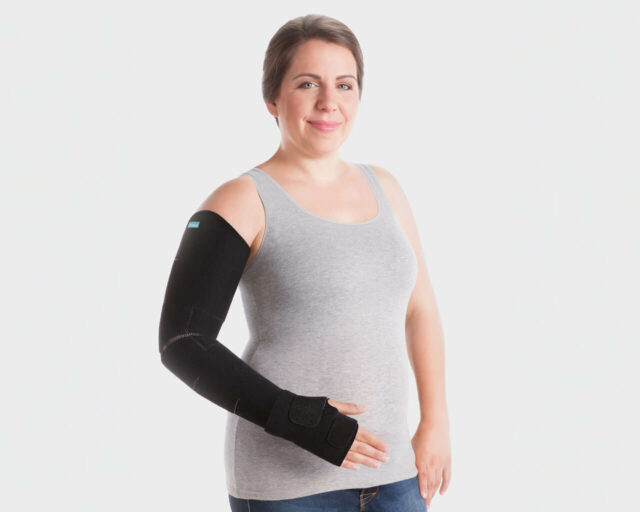 COMPRESSION PRODUCTS FOR
DECONGESTION
At the beginning of edema therapy, circumferential fluctuations can often occur. For this phase, ACS Light and Compression Wrap have been developed for decongestion. With the help of these medical adaptive compression systems (MAC), the compression care can be carried out by the patient on his own due to the individual adjustment possibilities of the compression segments.
SoftCompress bandage aids are used for ideal pressure distribution and cushioning. A unique surface structure promotes the natural function of the lymphatic system. SoftCompress can be used in combination with MAC or with compression bandages (short-stretch bandages).
SoftCompress complete sets make bandaging faster, more efficient and easier.
DECONGESTION SYSTEMS
SOLUTIONS FOR OEDEMA TREATMENT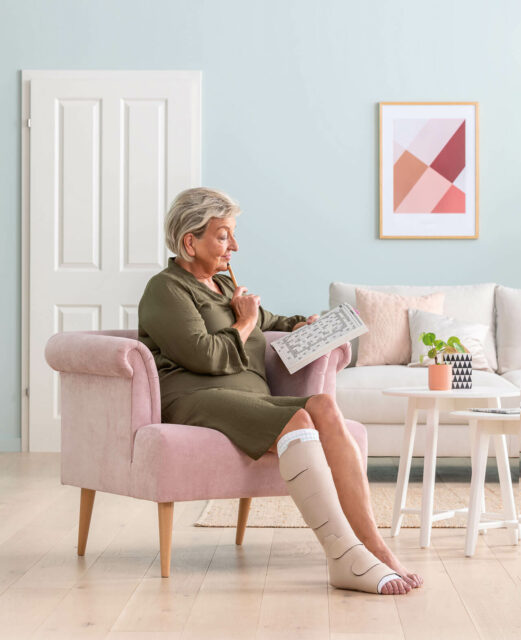 THE ACTIVE INVOLVEMENT OF THE PATIENT IN EDEMA THERAPY
The standard treatment of a lymphoedema is complex manual decongestive therapy (CDT), which has been complemented by a new component: the active involvement of the patient. In addition to manual lymph drainage (MLD), compression therapy, decongesting movement and breath therapy, skin care and skin rehabilitation, individual self-therapy is of great importance for successful long-term treatment success. Effective cooperation between the physician, lymphatic therapist, medical retailer and the affected patient enables the best possible participation in social and professional life and prevents complications.
SELF-BANDAGING
Self-bandaging as a self-treatment ensures long-term and permanent treatment success (especially manual lymphatic drainage or wound healing). The most important point is learning how to apply compression bandages or compression systems, i.e. self bandaging. With self-bandaging, a faster therapy progress is achieved and better treatment successes are achieved. The time-consuming and stressful decongestion phase is shortened with consistent application. The maintenance phase is reached more quickly and quality of life, freedom of movement and mobility are improved. To ensure that self-bandaging can be performed more effectively than with conventional compression bandages, compression systems and bandage aids that are easy and safe to use are available.
The innovative Medical Adaptive Compression Systems MAC in particular are suitable for decongestion and maintenance and enable a previously unknown level of independence in everyday life. An even more efficient way of decongestion is the combination of MAC with the bandage aids.
A 2-PHASE TREATMENT
THE COMPLEX MANUAL DECONGESTIVE THERAPY (CDT)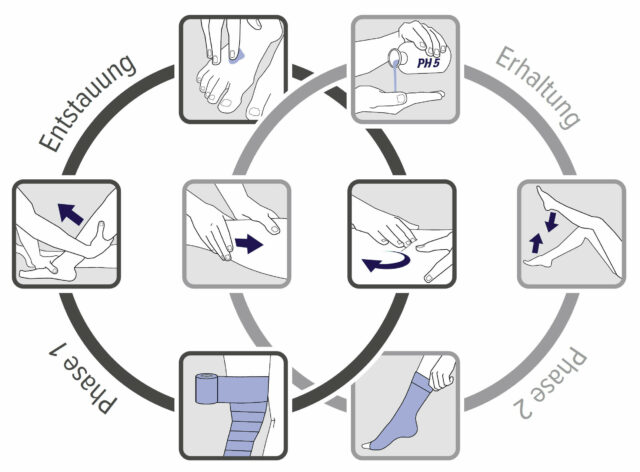 PHASE 1:
THE DECONGESTION PHASE
The decongestion phase is aimed at the mobilisation of the oedema. In the first phase of this treatment, all the components of complex manual decongestive therapy should be used 1 – 2 times daily. The education, training and involvement of the patient in his / her treatment is of particular importance in this phase because the measures are time-consuming an require active patient participation.
PHASE 2:
THE MAINTENANCE PHASE
In the maintenance phase, the components of complex manual decongestive therapy are applied according to diagnosis and complaints, to conserve and optimize the treatment success of phase 1. This phase may have to repeated, depending on the progression of the illness – in particular for concommitant conditions. The patient should also be actively involved in the second phase of treatment.
THE ADVANTAGES OF THE MEDICAL ADAPTIVE
COMPRESSION SYSTEMS (MAC) AND BANDAGE AIDS
IN DECONGESTION THERAPY
Easy and safe to use
Less time and effort required
Faster treatment success
More freedom of movement and independence
More self-determination and personal responsibility
Better quality of life
Reduced medical expenses, therapist and nursing effort
SELF-BANDAGING MADE EASY
Innovative aids for self-bandaging are offered for a noticeable increase in quality of life. Compression systems are practical to use especially during the decongestion phase or if needed further during the maintenance phase. They can be worn day and night. They enable the patient to make individual adjustments while wearing them. Furthermore, depending on the situation, they can be ideally adapted to fluctuating body sizes. The success of the decongestion treatment can be
further promoted by using the bandages for padding. Sensitive parts of the body are also protected from excessive shear and friction forces.
Compression Wrap
MEDICAL ADAPTIVE COMPRESSION SYSTEMS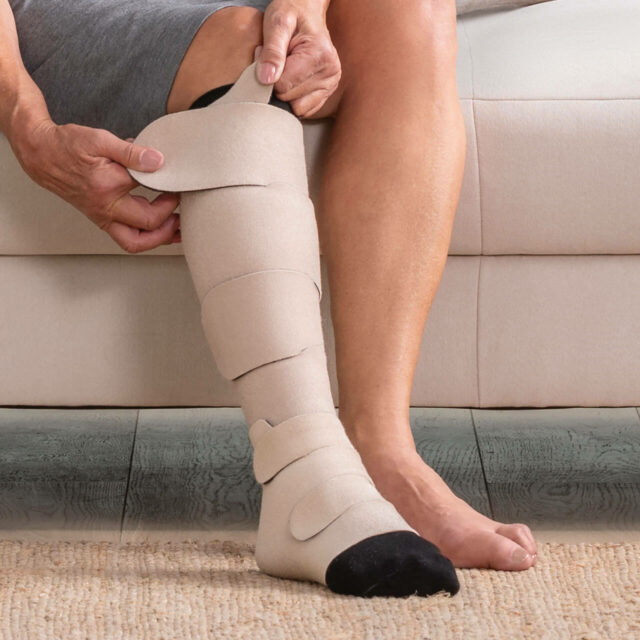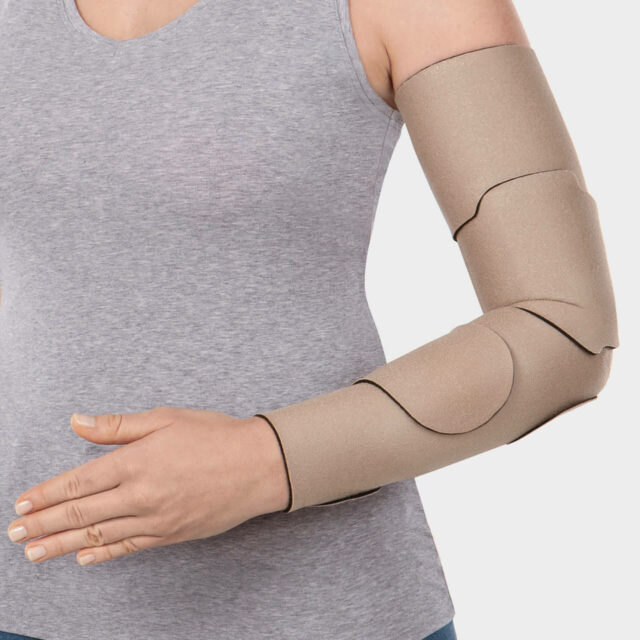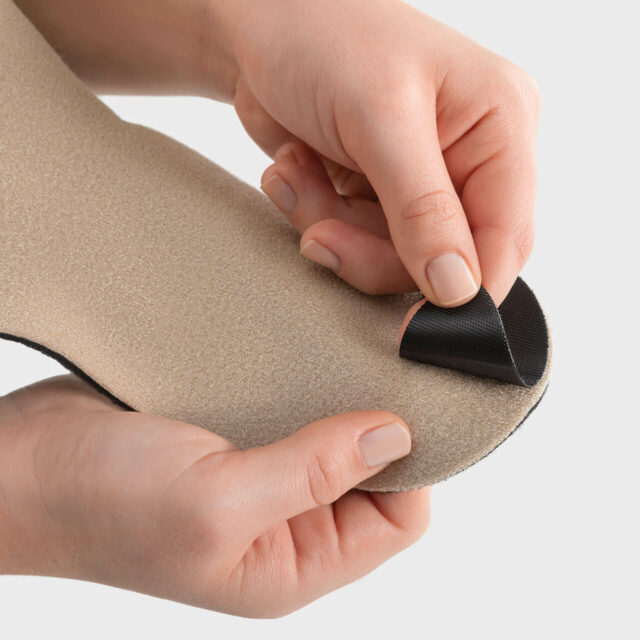 Based on their extremely short-stretch properties, Compression Wrap products exert very high working pressure and low resting pressure. Safe and time-saving application due to helpful grip zones and gapless overlap.
variable compression 30 – 60 mmHg
Necessity for very high working pressure (e.g. in the case of venous leg ulcers, pronounced fibrosis)
Very pronounced lymphedema (e.g. lymphedema in stages II – III)
cost-efficient
ACS Light
MEDICAL ADAPTIVE COMPRESSION SYSTEMS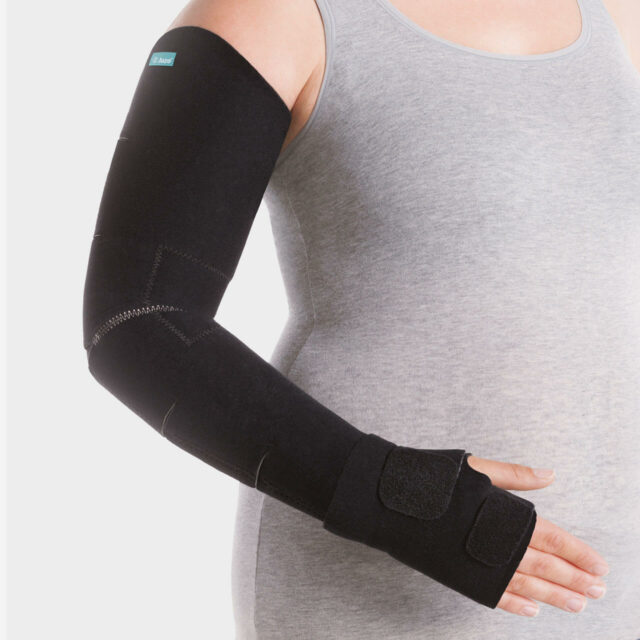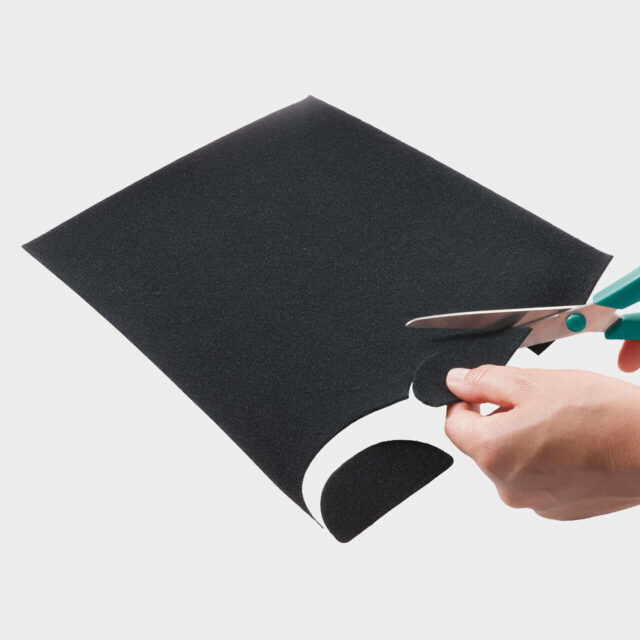 With their short-stretch properties, the compression segments can be used comfortably and efficiently for decongestion therapy. Easy application due to incorporated fixation aid. Adhesive bands at the upper end ensure secure hold and mobility.
Adjustable up to 40 mmHg compression pressure
Also suitable for secondary conditions requiring low pressure (e.g., peripheral neuropathy, mild pAVK) or when high compression pressure is not tolerated (e.g., pain sensitivity, sensibility, stimulus perception)
Circumstances that require more flexibility and elasticity
Temporary pressure increase in addition to compression stocking in maintenance phase
SoftCompress
COMPRESSION BANDAGES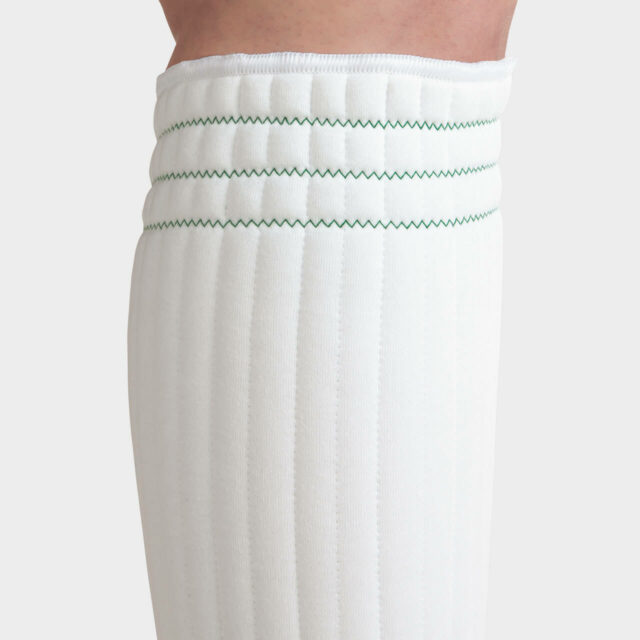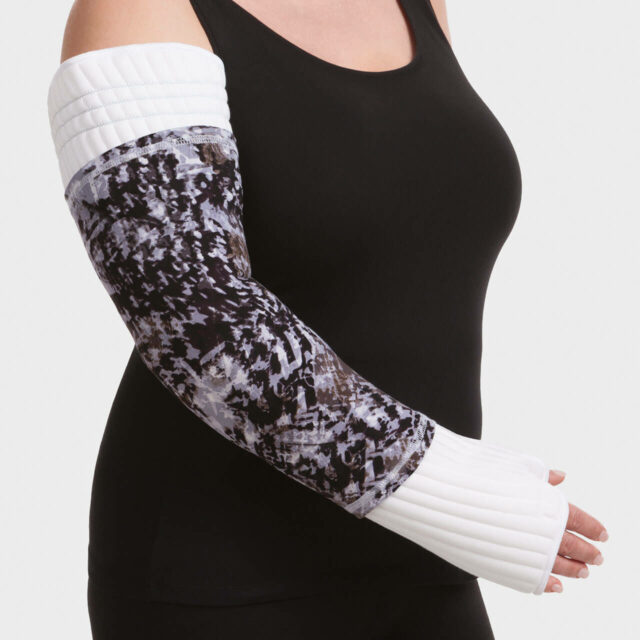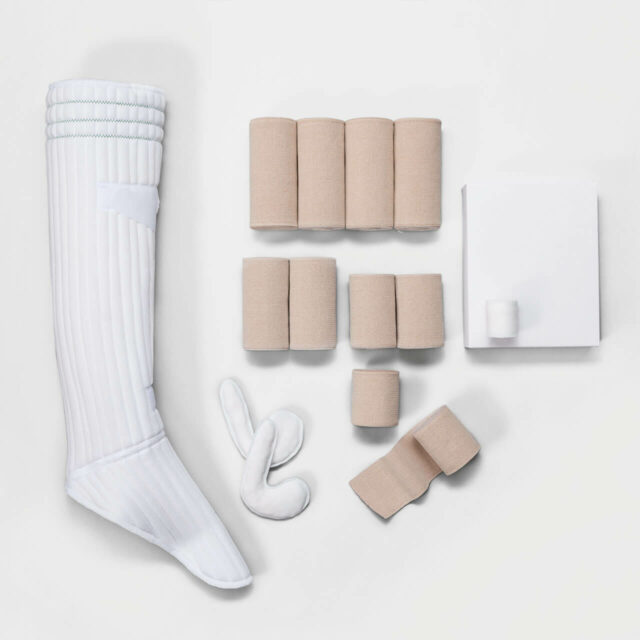 With their highly functional surface structure, SoftCompress bandage aids promote the drainage of lymphatic fluid with vertical foam channels, prevent pressure points and skin damage, and counteract connective tissue fibrosis.
Underpadding of compression supplies for ideal pressure distribution and pressure transmission
Prevents constriction and protects against cutting
Avoids pressure points and skin damage
Skin-friendly cotton surface, breathable and supple
For easier and time-saving bandaging
SoftCompress can be worn in conjunction with MAC and used under short-stretch bandages
Also available as a multi-component complete sets with bandages and pads
INDICATIONS
CONTRAINDICATIONS
INDICATIONS
Compression Wrap andACS Light
Lymphedema, lipedema, phlebedema, venous leg ulcer, post-traumatic edema, postoperative edema, deep vein thrombosis, post-thrombotic syndrome, chronic venous insufficiency, primary and secondary varicosis, immobility edema, occupational edema (standing and sitting occupations)
SoftCompress
Lymphedema, lipedema, phlebedema, posttraumatic edema, postoperative edema, fibrosis
CONTRAINDICATIONS
ABSOLUTE CONTRAINDICATIONS
Advanced peripheral arterial disease (if any of the following apply: ABPI < 0.5, ankle artery pressure < 60 mmHg, toe pressure < 30 mmHg, or TcPO2 < 20 mmHg dorsalis pedis), decompensated heart failure (NYHA III + IV), Septic phlebitis, phlegmasia coerulea dolens, acute bacterial, viral, or allergic inflammation, swelling of the extremity of unknown cause.
RELATIVE CONTRAINDICATIONS
Pronounced weeping dermatoses, Intolerance to pressure or ingredients of the product, Severe sensitivity disorders of the extremity, advanced peripheral neuropathy (e.g. in diabetes mellitus), primary chronic polyarthritis, peripheral arterial occlusive disease (pAVK) stage I/II, malignant lymphedema.
NOTE ON OPEN WOUNDS
In the care area, open wounds should first be covered with a sterile wound pad adapted to exudate management before SoftCompress or Medical Adaptive Compression Systems are applied.